TASTE OF BREWS LONG BEACH CELEBRATES ITS SIXTH ANNIVERSARY ON AUGUST 20, 2016 AT SPECTACULAR LIGHTHOUSE PARK 
What: Taste of Brews celebrates its 6th anniversary as Long Beach's original and authentic craft beer festival on Saturday, August 20, 2016 at Lighthouse Park. The event infuses more than 100 styles of microbrews and hard ciders and SoCal's premier mobile restaurants with an amazing ocean-front venue. This incredible tasting experience is expected to sell-out online and offer limited tickets at the gate so don't wait too long to purchase your package of choice.
Venue: Shoreline Aquatic Park (AKA Lighthouse Park) located at 200 Aquarium Way in Long Beach.
Date: Saturday, August 20, 2016
Time: Noon to 5pm (alcohol service ends at 4pm)
Who: Taste of Brews Long Beach features an amazing mix of craft breweries and hard ciders ranging from popular and well-known brands like Ace, Stone, Karl Strauss, Sam Adams and Firestone to startups and newer breweries like Four Sons and Venice Duck and everything in between. Area breweries participating include Rock Bottom, Beachwood, Belmont, El Segundo and San Pedro. The booming growth of craft beer in the Inland Empire (and ongoing success of the Taste of Brews IE event) is luring several breweries from East of Los Angeles like Hangar 24, Wicks, Craft Brewing and Sons of Liberty.
Food: A variety of gourmet food trucks offering meals and snacks for purchase.
Tickets: "Early Bird" bird pricing for the 4-hour session (noon to 4pm) starts at $40 and $30 for the 3-hour session (1pm to 4pm) and includes beer tastes, snack samples (while supplies last), plenty of drinking water and live entertainment.
Charity Partners: Proceeds benefit the Long Beach Marine Institute, a 501(C)3 non-profit and Camp Pendleton's 1st Marine Division.
Parking: Available at the Pike Parking structure for an additional fee.
Music: All attendees will be treated to live musical entertainment.
Age: All attendees must be age 21 or above—ID's will be checked
Info: Detailed information and tickets are available attasteofbrews.comor send us an email atbrewmaster@tasteofbrews.com.
Detailed information is available at www.tasteofbrews.com.
*Tickets are non-refundable*
*Unlimited Tastes – although, technically, tastes are unlimited, some of the more popular breweries may run out of beer/cider
Breweries: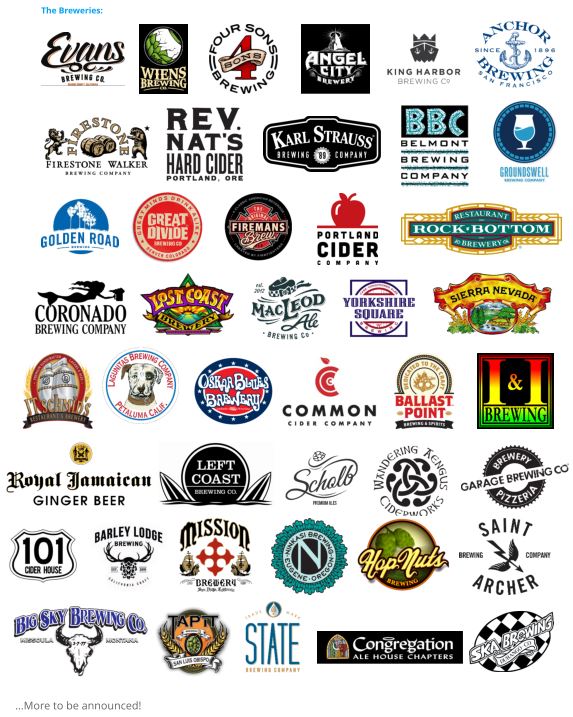 *subject t